Build portfolio and photo website with HTTPhotos
Photo Gallery Software
HTTPhotos is a desktop application to create web photo galleries from your images.
Photo Gallery Homepage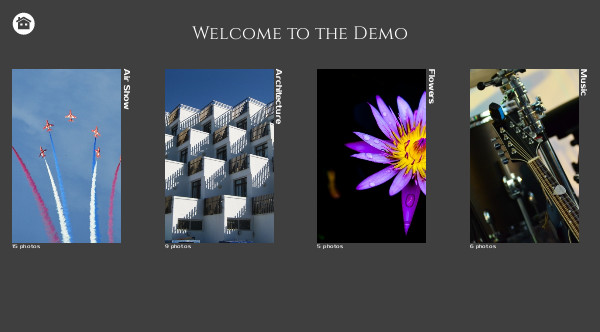 Click to browse HTML photo gallery homepage
Photo template sample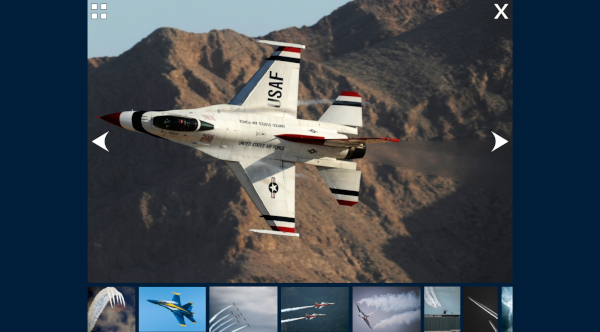 Click to browse HTML photo gallery slide
HTTPhotos 4.13
Photo Gallery Generator
System Requirement: Windows
Windows XP, Vista, 7, 8, 10
Size: 1MB
Rated 4.4 ( 5 reviews )
Price: 0
Professional grade web photo gallery
High Definition
Unbranded photo templates
Responsive web design photo templates
Look and feel theming
Scalable Vector Graphics SVG and HTML5
Cross browser support
Light and fast
Direct linking support
Watermarking
Arrow key navigation
Flat files, no database required
Library agnostic
Validated by W3C with no errors
Software Overview
HTTPhotos is a photo gallery software providing an efficient workflow to build HTML photo galleries from photo selection, photo touch-up, HTML photo gallery customization to web publising:
Select photos and arrange them in sequence,
Crop photo, add caption or adjust brightness/contrast,
Customize HTML photo gallery template with colors, fonts, layout,
Automatically create HTML photo gallery (image resizing, HTML code, ...).
Select and Sequence Photos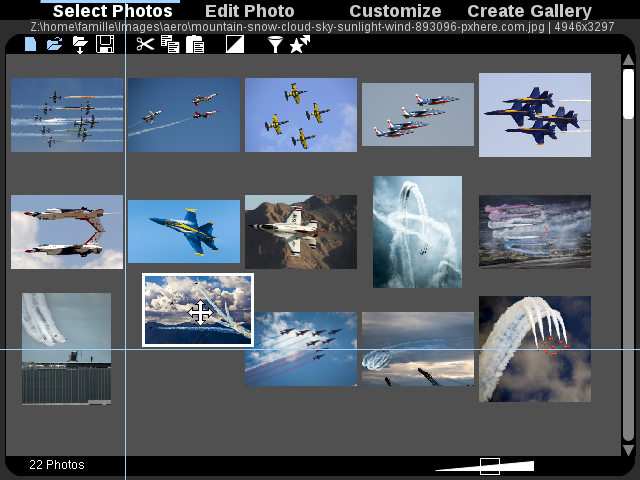 Load photos to be included to the HTML Photo Gallery
Refine photo selection using rate/exclude tagging
Drag and drop thumbnails to sequence photos
Copy/paste thumbnails between multiple HTTPhotos instances
Photo Editor and Captions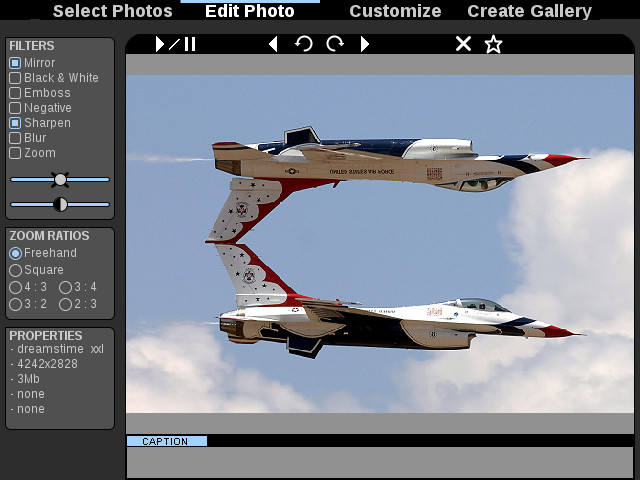 Crop photo with options to keep ratio
Add captions to be displayed in the HTML Photo Gallery
Apply photo filters like grayscale, image sharpening, mirror, ...
Non destructive image processing: always set as read only mode
Create HTML Photo Gallery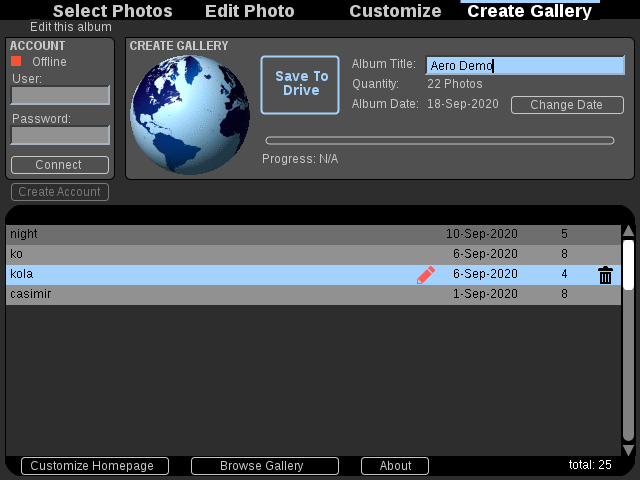 Set a title to the HTML Photo Gallery
Set a date to the photo collection
Click a button to generate the Photo Gallery either locally or online
Edit an already published photo gallery to add photos or captions
Customize Photo Gallery Homepage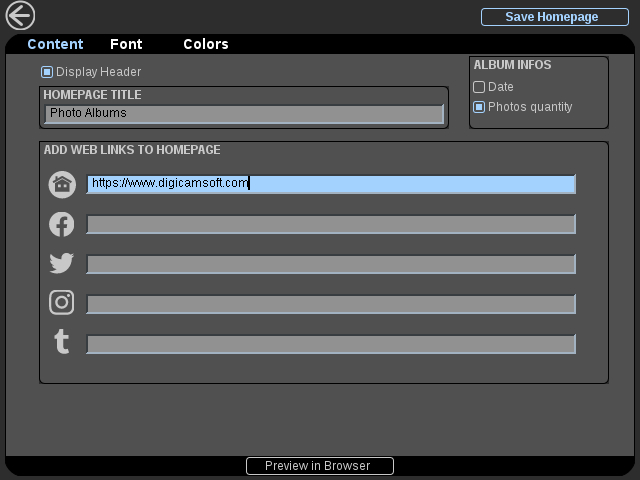 A homepage automatically list all available photo galleries
Link back from the homepage to any other website
Adjust Homepage font and colors
Customize Photo Gallery Colors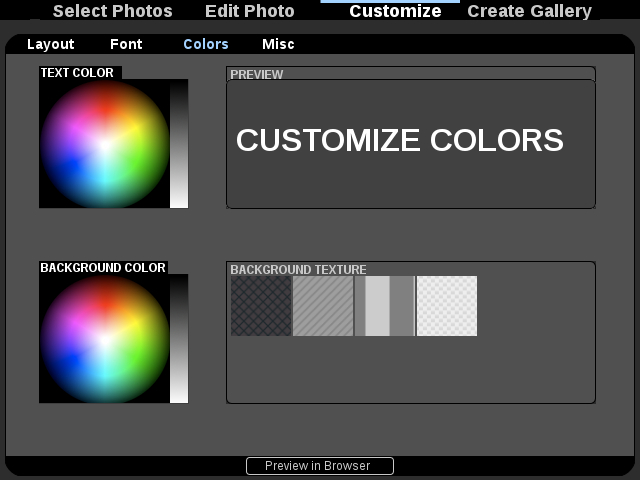 Customize each HTML Photo Gallery separately
Text and background colors are customizable
Background pattern can be set
Watermark all photos
Customize Photo Gallery Fonts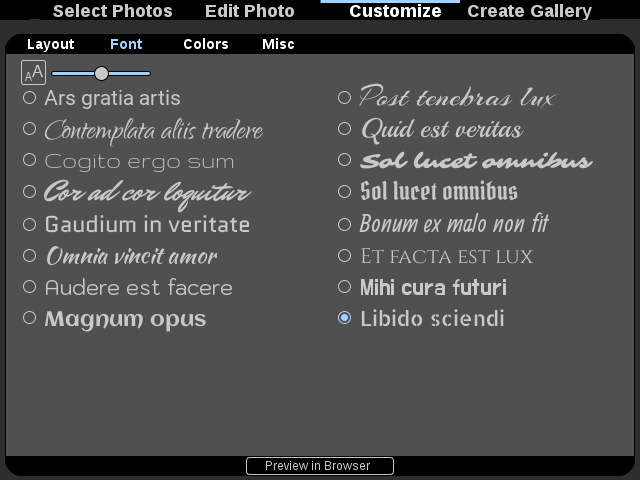 Font to use for the HTML Photo Gallery is customizable
A Preview Button allows to open the HTML Photo Gallery in a browser window
Repeated previews made fast by resizing photos only once
All purpose
HTTPhotos is freeware and can be used for any purpose including building a commercial website.
Upload to any website
HTTPhotos generates web photo galleries on your local drive in httphotos folder. You can copy or upload generated HTML and picture files anywhere. An easy way to achieve this is to upload the full content of httphotos folder to your web server using an FTP client like filezilla.
Offline mode
HTTPhotos works the same whether you're online or offline. You only need to be connected to the internet when you want to publish your HTML photo galleries to a PhotoWebspace.
Upgrade to latest version
HTTPhotos checks at startup for any new available version and pops-up a message if any. In order to upgrade, visit this webpage and download HTTPhotos again. Proceed with installation: this will overwrite with new version while keeping your settings as well as photo albums.
Account usage
HTTPhotos has an integrated connection to digicamsoft.com to easily publish photo galleries online using a PhotoWebSpace. It is up to you to use this service or not.
Support HTTPhotos
Instead of charging a fixed price for HTTPhotos we prefer users to make a donation that matches their expectations. Your donations can be collected using paypal link below. Any amount is welcome.


HTTPhotos is a trademark of digicamsoft.com owners.