Below are instructions on how to make a photo website using
free gallery software HTTPhotos
.
How to create your first Photo Gallery
The four steps below describe how to get started and create a photo gallery using HTTPhotos.
Click on open icon to select pictures to be included in the photo gallery. This will pop-up a file selector to select one or more pictures (regular multi-select by holding CTRL key or using SHIFT key). Alternatively, you can click on the next icon to select a whole folder and import all photos contained in this folder and subfolders.
Once photos are imported, they are displayed as thumbnails on the light table. Thumbnails size can be adjusted using the slider on the bottom right.
Click on "Create Gallery" tab, then enter a title for your gallery (in this example "My First Gallery") and click on "Save To Local Drive" button. This will generate your photo gallery and write all the required HTML files and resized pictures to your hard drive.
The photo gallery is now created and it is listed with title, date and photos amount. Click on the gallery name in the list and it will open in an internet browser. Click on the "Browse Gallery" button at the bottom to open the home page where the galleries are listed.
Select and Sequence Photos
Thousands of pictures can be imported into HTTPhotos and here the selection work begins. To help in the photo selection process, any picture can be excluded or rated using icons displayed when the mouse is over a thumbnail. Excluded pictures are displayed with a red cross and can be removed from the current selection by clicking on the filter icon. Rated pictures can be all sent to a new instance of HTTPhotos by clicking on the send-to star icon.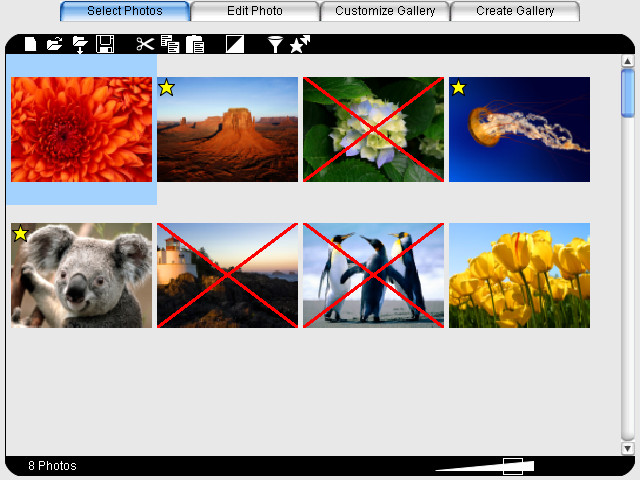 Drag and drop thumbnails to rearrange the photo sequence. A vertical and horizontal blue line show exactly where the thumbnail is going to be inserted.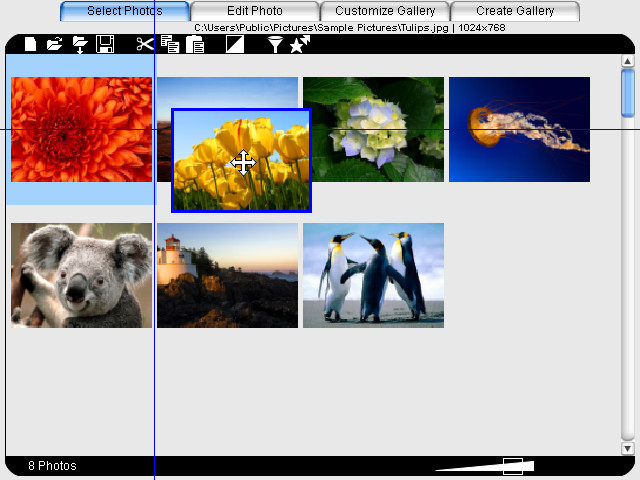 Edit Photos or add Caption
There is a text area below the main photo display where caption can be entered. Simple effects can be applied including contrast or luminosity adjustment and picture cropping.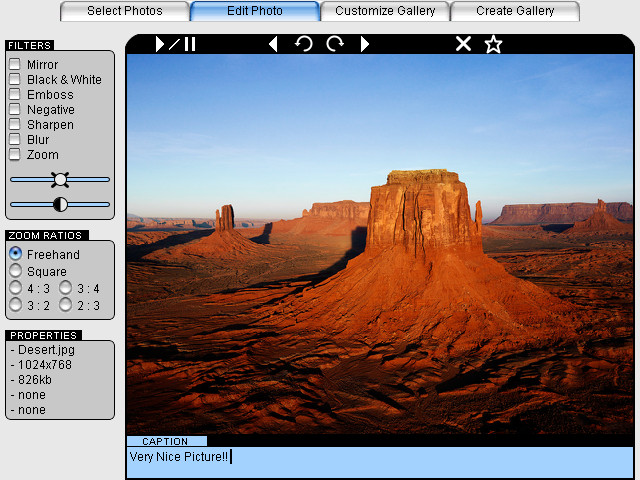 Customize Photo Gallery
Different templates are available in rows while template settings are available in column. Tune to select background or text colors, textures, fonts, scale of photos, ...
Excellent embeded patterns from: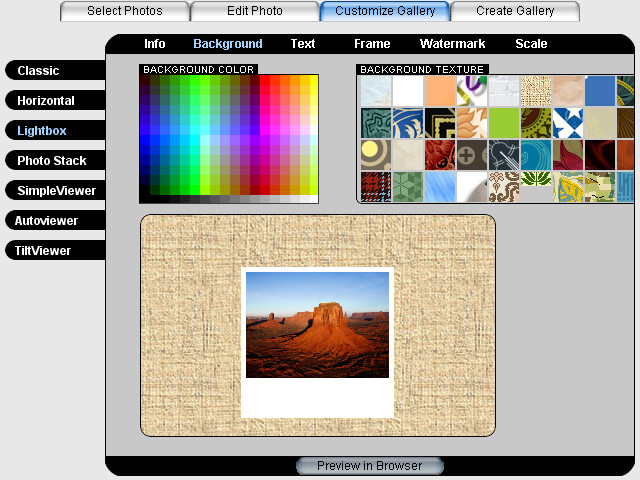 Create and Manage Galleries
All created photo galleries are listed there. Click on the trash icon to remove a gallery. Click on the date to edit the gallery date.